Dr. Sylvain Charlebois sure has! But it wasn't exactly what he had planned to do! Read his unforgettable story below. Spoiler alert: Gum is involved!
MTBC: You're known as "The Food Professor" and you're the Senior Director at the Agri-Food Analytics Lab at Dalhousie University in Halifax. What brought you to Montreal?
SC: Our family cottage is in the Laurentians. On December 18, CTV's Your Morning [in Toronto] booked me for an interview for January 2 at 7:15 am. I told them I was going to be in Montreal so they booked the [Montreal CTV] studio. I knew I was going to get requests from other [TV] stations (TVA and CBC), so going downtown was not a big deal.
MTBC: So what happened?
SC: It wasn't until on December 31, during my pre-interview that CTV Toronto realized the Montreal TV studio was closed until January 4. But it was too late for me to cancel my two other in-studio TV interviews. Everyone was already on vacation…so I told the producer that I would take the call in my car [via SKYPE in my car on the drive down]. Why was the CTV Montreal studio closed? Cuts, I assume. Programming is more heavily centralized now. It's all about Toronto and Montreal (in French). This is something your students need to understand. With media being more under financial pressure, it will be more difficult to rely on local programming in regions (outside Toronto in English, outside Montreal in French).
When I got to downtown [Montreal], I realized I couldn't do the interview in my car, which was my initial plan. It was way too dark. And coffee shops were all closed on January 2. Everything was closed. 15 minutes before my live interview, I still had no idea where I was going to be for the actual interview. I looked at a Metro station (Papineau) but it was too noisy, and some homeless people were sleeping in the entrance.
MTBC: Yikes! What did you do? How were you feeling by now?
SC: I do carry gum you can stick anything on a wall with. So I used it to stick my cell phone on a telephone pole. I was concerned the gum would not stick well since it was -3 Celsius, so I was able to find a few nails and hammered them with a stone right underneath my phone to support it.
Since I conduct over 700 interviews a year, I didn't panic but I'll admit that I was a little stressed. I just didn't know what was available in that area of city. It's not an area I knew well. It also known to be a rough neighbourhood, not the kind of place you want to be early morning on January 2. Ironically, both TVA and the CBC TV studios were near by, but I did not have enough time between interviews to go to either place. And of course, you have to go to makeup, hair, you know the drill.
MTBC: Mon dieu! What a story! Any tips for our readers? What's the name of this magic gum?
SC: Well, when something like this happens, don't expect any sympathy. The show must go on, if you will. I only went public with my story the day after it happened . I've had other close calls in my career, and it's always the same thing. The station won't necessarily care if you're uncomfortable, or under pressure. They expect you to deliver, no matter what. Of all people, you know this better than anyone. And that's ok in my book. You either play the game, or you don't. Most importantly though, trust your instinct. You do you best with what you have, and that's all you can do. If I would have known, say by December 30, that CTV Montreal was closed, I would have done all three interviews via Skype from the cottage. But it was too late to cancel so I had to show up.
The gum can be bought in a hardware store. It's called "funtac". It's great. I think you should buy some as well! I've been doing media interviews for about 20 years now, both French and English. I've done my share of mistakes too!!!!
MTBC: Merci Sylvain! What a pro!
Watch Sylvain's CTV interview here and follow him on Twitter. For the record, Sylvain's tweet about this interview started with "I love my job!" See below. What a super attitude!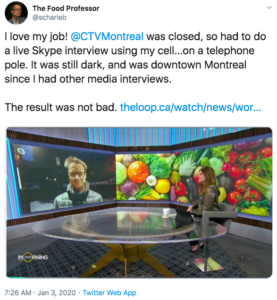 I'd love to hear from you! Do you have a story to share? What did you do when something didn't go exactly as planned? Contact me Sue@MediaTrainingBootCamp.com We learn from each other!