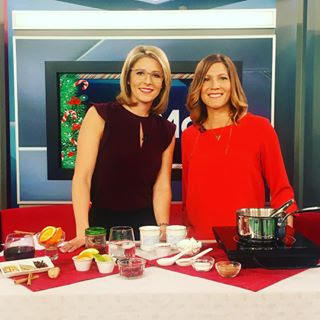 Brooke is a Saskatoon-based dietitian and President of Food to Fit Nutrition Inc.  a successful nutrition consulting business with over six years great years of success!  She is regularly interviewed by CTV Saskatoon and Shaw Television and appears as a monthly guest on Saskatoon's Global News Morning. She acted a media spokesperson for Dietitians of Canada from 2014 to 2017. Brooke has also had the privilege of working with Huffington Post, Best Health Magazine, Canadian Living, Chatelaine, Toronto Tonic and The Globe and Mail.  We are certain you will enjoy learning about more about Brooke, her background, diverse media experience and her fantastic and practical tips for media success!
How did you get started in the media? 
My very first opportunity was before I even entered into the world of consulting and private practice.  In 2011, I was working a part-time position in Public Health for the Saskatoon Health Region, and Global Saskatoon was just getting ready to launch their morning show. They approached the Public Health Department looking for a Registered Dietitian to be a guest on their Healthy Living series every 2 weeks. My manager asked if I was up for the task! My very first television segment was December 2011 and I believe the topic was related to calories and sugar in certain coffee beverages.
What was your most memorable interview and why?
One of my most memorable segments was around Christmas time (2012 I think) and the topic was to do with alcohol and some of the calorie "worst offenders". The host, Lisa had done the interview with me, but the gentleman doing the weather came onto our set, live, and opened the bottle of Irish Cream from the food display and poured it into his coffee! I didn't know what to say or do on live television! But it turned out to be quite funny. Media can be so unpredictable.
More recently, on a radio interview the station opened up questions to listeners. One person called in to ask if it was safe and healthy to eat frozen mixed vegetables in their frozen form. He had actually called the company who advised him against it. He was using the frozen mixed veggies to put into a smoothie with water! What?! I was caught off guard for so many reasons with this question, but also because the question had nothing to do with the topic. Moral of the story – media can be so unpredictable that sometimes you just have to roll with it!
Have you ever experienced a "fumble" during an interview, and if so, how did you fix it / what did you learn from it?
Oh goodness, yes. I mostly fumble my words and the best thing I can do to help minimize this is to understand my topic and talking points very well, and to practice my 3-4 minute segments a few times the night before and a few times the morning of. When I used to fumble my words, I noticed that I used to do this weird eye twitch/roll which was really ugly on television (hence it's important to watch your television segments for areas of improvement). If I fumble words now, I tend to simply pause for a second, smile, and say my sentence again, or correct it by saying "pardon me" or "or rather". The less we show emotion to our mistakes on television, the less others will notice too.
Can you share one tip or a nugget of expert advice for dietitians who would like to work / who are working in the media?
I have 3 tips: one that I learned from Media Training Bootcamp that has really helped me. It is to choose 3 main points to discuss as your punchline or take-home message. This helps to organize the topic, keep it succinct and to-the-point, and keep it clear for viewers.
Also, practicing your talking points and understanding your topic really well actually helps you to be more comfortable on air or on television and the conversation will flow more naturally (as opposed to simply memorizing your segment points). Be professional but don't be afraid to show your personality and to laugh with your interviewer too.
SMILE, even if off air and interviewing over the radio. This helps to keep the mood feeling light and fun and a smile will come through the airwaves too!
For more information about Brooke:  
Brooke's experience base includes nine years in the field, five of which were as an employee with the Saskatoon Health Region under a variety of settings. She has been in business as a consulting dietitian for over 6 years. Her vision for the business has changed over the years as she learns from meeting her clients needs. Maintaining or building a healthy relationship with food is at the forefront of the services she offers. Facilitating group workshops and public speaking is a big part of the work she loves! Brooke also enjoys speaking at local gyms, sport groups, community groups, corporate wellness programs, post-secondary schools, and professional AGMs/events. She holds memberships with the Dietitians of Canada Consulting Dietitians and Media Networks and is a member of The Centre for Mindful Eating.
To contact Brooke you can reach her at:
Email: brooke@foodtofit.ca
Website: www.foodtofit.ca
Instagram: @foodtofit_nutrition
Twitter: @foodtofit
Facebook: foodtofitnutritioninc