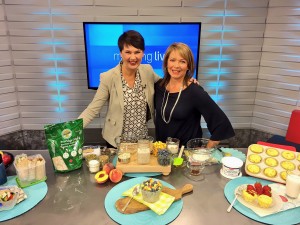 Featuring Hamilton, Ontario-based dietitian Shannon Crocker, MSc, RD – media dietitian superstar and owner of VIBRANT nutrition communications.
Shannon is a nutrition communications pro and good food content creator. When she's not writing about food and nutrition, she's talking about it. A lot! Shannon appears regularly in radio and television media, facilitates wellness classes and is a professor at the Canadian Food & Wine Institute where she teaches nutrition to future chefs. Shannon shares her passion for simple, good foods that nourish a healthy, vibrant life on her blog Be Simply Vibrant.
In our Secrets of Success series, we are interviewing Canada's top media dietitians to share their media experience, insights and nuggets of wisdom to help YOU be a media rockstar! We're certain you will enjoy learning about more about Shannon, her  background, diverse media experience, and some of her fantastic and practical tips for media success!
How did you get started in the media?
When I was in university I worked with the Hamilton Tiger Cats for a few years in promotions and did some really fun media work with them. So I had a bit of a comfort level with it from that role, and enjoyed it, but didn't work in media as a dietitian until I started consulting about 13 years ago.
I was doing mostly resource development and content creation projects when one of my clients – Dairy Farmers of Canada – asked me to do a media tour for them. They provided media training through their agency and off I went on my first two-week tour.
I really enjoyed it – it was a different pace from my typical work. I decided to add it to my repertoire of skills to build. So, I worked on it with some personal coaching (my husband…he is a broadcaster) until I found a style (relaxed but not ridiculous) that worked for me.
What was your most memorable interview and why?
Wow. That's a tough question. I don't really have one particular interview that I think back on as "most memorable", although the ones I enjoy the most are the ones where I know I nailed the message and was with a host who's not afraid to have some fun.
I can tell you my most memorable TV moment though – that was the first time I worked with Anna Olson. We were filming a series of short TV ad clips for Food Network.
The first (of four) days of taping I went back to the hotel and cried like a baby. I was so stressed. Anna was a pro and I was really struggling – I hadn't done anything quite like that and even thought I thought I had prepared, I wasn't hitting my mark. I got room service and spent hours that night preparing. The next couple of days were much better and I was able to relax and enjoy the experience. Being beyond prepared is a must for me now!
Have you ever experienced a "fumble" during an interview, and if so, how did you fix it / what did you learn from it?
I've had a few fumbles for sure – everyone does! If I slip or fumble words I just stay calm, correct and carry on. Or, I make a joke of it depending on what's happened.
Just recently I was on TV live with a host and had told her not to use a particular ingredient in the salad we were making because a glass had broken into it prior to going on air. The first thing she reaches for during the interview? The ingredient with broken glass! ACK! I could have panicked but just joked with her about messing with me – we laughed and moved on. It actually set us up for a fun interview.
My biggest lesson learned? Make sure you say your clients' name, product and/or website right away in an interview. Once I forgot to mention the client's website during a TV interview. The client decided not to pay me the full amount since I hadn't delivered what I what I had been hired for!!! Ever since then, I definitely make sure to share my client's website/main message up front!
Can you share one tip or a nugget of expert advice for dietitians who would like to work / who are working in the media?
Oh wow, there are so many great nuggets to share that I wish someone had shared with me! (And, I still love to hear great tips from dietitians working in the media – we can really help each other)!
Probably the biggest thing is to relax and just be yourself – it's easy to see when someone is not comfortable or when they are trying to be someone/something they aren't on air.  To get comfortable, practice in front of a mirror or video yourself. I took a public speaking course in university (I was avoiding English class and writing essays) – it was fantastic! We repeatedly video taped our presentations and critiqued them. That really helped me to feel comfortable and relax in front of a camera. (It also helped me to realize that I was fidgeting a lot – so I fixed that).
Oh, and don't be afraid to turn down an interview if you don't know the topic well – you do not want to be in a position where you are uncomfortable before you even start.
Thank-you Shannon for sharing your experiences, valuable media insights, fabulous tips and words of wisdom with Media Training Boot Camp! We know your secrets for success will be certain to help dietitians who work in the media and those aspiring to do so!
For more information about Shannon or to contact her you can reach her at:
Website: shannoncrocker.ca
Twitter: @shancrockerRD
Instagram: @shancrockerrD
Facebook:  https://www.facebook.com/shancrockerRD