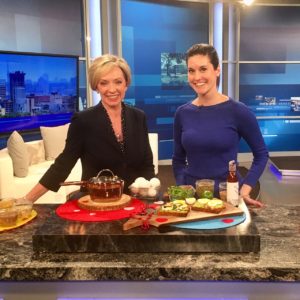 We're excited to introduce you to media savvy, dietitian entrepreneur Andrea D'Ambrosio from Ontario! Andrea owns and operates Dietetic Directions, a nutritional counselling and education company in Kitchener Waterloo. Along with her team of dietitians, she has the mission to inspire busy people to achieve life-long behaviour changes though motivational coaching and mutual goal setting. Andrea is regularly featured in local media in the Kitchener Waterloo and Hamilton regions and has acted as a National Media spokesperson for Dietitians of Canada. She's a natural at communicating reliable nutrition information to consumers that is easy easy to understand. We know you'll enjoy reading about Andrea's media experiences and will will find her tips immensely helpful for your own media success!
How did you get started in the media? 
I started my media career in 2014 as a Media Spokesperson for the Dietitians of Canada (DC). Prior to the Media Spokesperson program, I was interviewed for health and nutrition quotes in major media outlets such as Toronto Star and Global News. With the DC program, I was able to develop my professional, media skills for speaking, answering questions and delivering key messages. The mentorship I received has allowed me to ask questions, receive feedback from the other media dietitians and get a lot of practice speaking on camera, radio and for print.
What was your most memorable interview and why?
My most memorable interview was a recent interview on Easter Entertaining. When presenting on camera over the past five years, I have had to work through feelings of anxiety, discomfort and fears of looking silly. However, before this April interview I had a moment where I realized that lots of practice builds confidence and ease. Instead of wasting energy feeling nervous, I felt like I had an important message to share. I wanted to provide ideas for healthy appetizers for people to serve their guests. I wanted to highlight the nutrition in a fun and tangible way. It's a success when you learn how to get out of your head and focus on the overall purpose, which is to share an important message!
Have you ever experienced a "fumble" during an interview, and if so, how did you fix it / what did you learn from it?
Absolutely! I have had awkward moments where my mind went blank and I think, "this is LIVE TV!" In these moments, the most important thing is to remain calm. Smile and pause. The next thought will come or the host will say something to keep the conversation moving. The uncomfortable pause can feel like an eternity, but it only feels this way to you. I watched what I perceived as "fumble segments" back and it's never is as bad as you think! Making mistakes is human and there's nothing wrong with a mistake. I find now, I accept that I will make mistakes, I may forget or the host may take a conversation in a different direction. I can't control these things. Instead, I prepare for the segment, have a clear purpose (communicate this in advance to host) and most importantly, I simply be myself. People like authenticity, not "perfection."
Can you share one tip or a nugget of expert advice for dietitians who would like to work / (who are working) in the media?
For dietitians who would like to get into media, my advice is to get started now! Do not delay and don't second guess yourself. It's normal to feel uneasy when stepping outside your comfort zone. Speaking on camera or on radio is rarely within anyone's comfort zone! Also, be sure to seek mentorship (like the Media Training Boot Camp) or Media Spokesperson program with Dietitians of Canada. We can learn a lot from one another and dietitians are happy to share experiences and support one another. Together we can create more opportunities for dietitians to be showcased as the go-to nutrition media experts. Let's all stand together and support one another!
A little bit more about Andrea:
Andrea is Registered with the College of Dietitians of Ontario (CDO) and she acted as a National Media Spokesperson for Dietitians of Canada for over three years. Andrea currently works with brands as a spokesperson, she is a blogger and regularly acts as a quoted expert for major media outlets such as CHCH Morning Live, CTV Kitchener, Toronto Star, Chatelaine, National Post and CBC news.
To contact Andrea or follow her on social media:
Website: Dietetic Directions
Instagram: @dieteticdirections
Twitter: @DambrosioRD
Facebook: Dietetic Directions