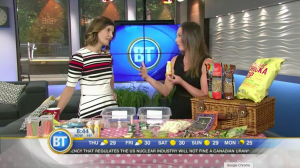 We're excited to introduce you to media savvy, entrepreneur dietitian Andrea Hardy from Calgary, Alberta! Andrea is the owner of Ignite Nutrition and is Calgary's nutrition expert in gut health! She makes it her mission to communicate credible, scientific evidence about gut health and digestive disorders. She shares her message with clients and colleagues in a way that is easy to understand and that inspires sustainable action. Andrea appears regularly on local media including being a regular guest on Breakfast Television Calgary. We know you'll enjoy reading Andrea's media experiences and tips for your own media success!
How did you get started in the media? 
I got started in the media unintentionally! I was very focused on building my private practice and building my social media, and it was actually through my social media that brands started to recognize me! My first contract was right to TV, and I just kind of had faith that I knew my stuff, and I would figure it out! I'm always pushing myself outside my comfort zone and I really encourage other RDs to just get out there and DO IT! Talk with media outlets, send them ideas, connect with them on social media, and add value to conversations you care about.
What was your most memorable interview and why?
My most memorable interview was probably for IBS awareness month on Breakfast Television. It really makes a HUGE difference when you're able to talk about the practice area you're most passionate about. I was comfortable, confident, and totally rocked it! It really allowed my personality to shine, and I had so many people reach out to me after to thank me for the information – so that was very rewarding for me!
Have you ever experienced a "fumble" during an interview, and if so, how did you fix it / what did you learn from it?  Also, what expert advice can you share with dietitians who would like to work / who are working in the media? 
I think my biggest fumble was a print media interview and it was a HUGE learning experience. I was asked to do a last-minute interview for a print article. The journalist said she just needed a few quick quotes and I was under the impression I was just adding context to an already written piece. I took a bit of time to jot down my main messages, but since it was a hot button topic – I really quickly learned I should have written down the key points word for word. A few of my quotes were taken and applied out of context and in a way where it looked like I was supporting something that I actually wasn't. I asked for the article to be edited, but she declined changing the quote. This was really hard for me. I pride myself, as we all do, in the quality and scientific accuracy of my work, and the quote was NOT scientifically accurate. I definitely have learned a few things from this experience!
My tips for next time would be to :
 Check out who is interviewing you and their work prior to accepting the interview. How do they write? Are you comfortable with the angles they take in stories?
Ask what the reporter's angle is for the story – especially if the topic is controversial. It wasn't like I was talking about how broccoli is a superfood. I was commenting on a very controversial diet. It's not enough to know that you're speaking to a topic, but also what angle the reporter plans on taking in the article, so you can better understand how your quotes will be used.
If you're quoting a study, be sure to write down exactly what you mean to say about it prior to the interview. Imagine your toughest critic – what conclusions are you drawing from the study? Have you been careful on the semantics of causation versus correlation? Are you over-interpreting the study, or could your quote be interpreted that way? Imagine your quotes as 'stand alone' quotes. Would they hold up to scientific rigour? Run it by a dietitian or health care professional whom you trust if you're not sure!
Be very clear on your key message and take in the interview. Be adamant on ensuring that your take is included.
Ask to proof read the article for scientific accuracy prior to publication, and/or ensure that you are allowed edits to the article if something doesn't make sense, or if you feel like you've been misinterpreted.
You may not be able to check all these boxes, but I'd say from my experience that it very easily could have been a lot worse, and that taking your time to do your research and talk to the journalist prior to – even if you're pressured to get the interview done quick – is KEY.
A little bit more about Andrea:
Andrea believes it's time to strip the jargon and fear-inducing language from nutrition messages and inspire connective communication in health care. She likes to say her goal is to get people to take nutrition a little less seriously – which may come as a surprise coming from a dietitian. Through humour, she injects fun into her science-based media messages. After all, poop jokes aren't her favourite kinda jokes, but they are a solid #2.
To contact Andrea or follow her on social media: 
Website: ignitenutrition.ca
Facebook:@ignitenutritioninc
Instagram: @andreahardyrd
Twitter: @andreahardyrd