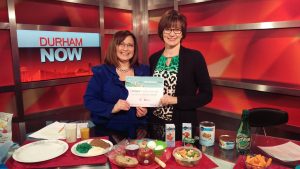 We're excited to introduce you to media savvy, entrepreneur dietitian Andrea Miller from Ontario! Andrea owns and operates a successful private nutrition consulting practice in Whitby, Ontario, and she appears regularly in local media in Durham region as a National Media spokesperson for Dietitians of Canada. She is an excellent communicator and prides herself in skillfully communicating credible, evidence-based, nutrition information to consumers that is relatable and easy to understand. We know you'll enjoy reading Andrea's media experiences and will enjoy hearing her tips for your media success!
How did you get started in the media? 
My first media interview was early in my career. I was working as the Family Practice Dietitian at Women's College Hospital. One of the key reporters for City TV called me directly and asked if she could interview me for the evening news. She and her camera man came to my office and we did a short interview, of which about 30 seconds ended up on the news. This was the beginning of a long relationship with this reporter – she was great to work with! Anytime there was a nutrition related story in the news she would call me, come to my office and do a quick interview. I loved working with her. She was reliable, she edited my interviews well, and she did not take my words out of context. This was a great way to start my media experience. From there I moved on and did a season (12 episodes) on the Dini Petty show, a season on a talk show on the Women's Network, and I participated in a documentary on menopause for Global TV that was set at Women's College Hospital. Since I opened my private practice, I have done multiple TV appearances on my local Rogers TV station. I really enjoy working locally and the producers of the two shows that I appear on are wonderful to work with. I also frequently do radio interviews for CBC syndicated radio.  This involves doing a series of 10 to 12 interviews on the same topic, set in different cities across Canada. These interviews often start early in the morning (6:00 am) and run until about 9:00 am. I like doing radio work, as I can do this from my kitchen, with a cup of tea, often in my pyjamas! I currently write a monthly nutrition column for my local newspaper. I have been doing this for over three years, now. My editor is great! He gives me lots of creative licence and if a major nutrition story hits the news, he will often give me space to write a response to the news story.
What was your most memorable interview and why?
I think my most memorable media experience was a Thanksgiving show I did on the Dini Petty Show. We did the whole show sitting around a dinner table – live with a studio audience. There was Dini, myself, a decorator, a chef, and I think a family counsellor. The show was like a big family dinner, where each guest had to talk about the dinner details that were relevant to them. My role was to talk about the recipes we choose, why we choose them, how they compared to other traditional Thanksgiving recipes (i.e., apple crisp vs. apple pie), while at the same time, actually eating the meal! It was really fun, but it took considerable effort to eat, remember my speaking points, and interact with the other guests and the audience.
Have you ever experienced a "fumble" during an interview, and if so, how did you fix it/what did you learn from it?

I don't think I have ever had a real fumble, but there have definitely been times where an interview did not go as smoothly as I would have liked. I can think of times where I was doing a food demo and I placed an item just out of reach, or I had to reach in front of the host, to pick something up – these are definitely awkward moments. I have since learned to connect with the host and the producer to go over my set up, to ensure there will be no awkward reaching for spoons or bowls .
Can you share one tip or a nugget of expert advice for dietitians who would like to work/who are working in the media?
My advice would be: prepare and practice. If you are doing a TV segment, have lots of colourful visuals, including placemats, napkins, etc. and have all of your ingredients ready to go. Run through your segment at home, time it and practice your key messages, so they sound natural and not scripted. The producers at my local TV station are great! I actually send them the talking points for my segments, including the questions the host can ask me. The producers love this, because it means less work for them. I love it, as I know what to expect and I know I am not going to be surprised with a question I have not prepared for.
A little more about Andrea:
Andrea graduated with honours from Ryerson University's undergraduate program in human nutrition. She completed her dietetic internship at St. Michael's Hospital in Toronto and her Master's degree in health sciences at the University of Ontario Institute of Technology, in Oshawa. Andrea has worked in a wide range of dietetic practice settings, including Family Health Teams, Long Term Care, and Teaching and Community Hospitals. Andrea was on the Board of Directors of Dietitians of Canada from 2011-2014. She has been a co-editor for several University textbook chapters, in addition to presenting several times at the annual Dietitians of Canada National Conference. As mentioned, Andrea owns and operates a private nutrition consulting practice in Whitby, Ontario, she is a sessional instructor at the University of Ontario Institute of Technology, and she appears regularly in local media in Durham region.
To contact Andrea or follow her on social media:
Website: Andrea Miller, MHSc, RD Consulting Dietitian
Twitter: @AndreaMillerRD
Facebook: AMillerRD