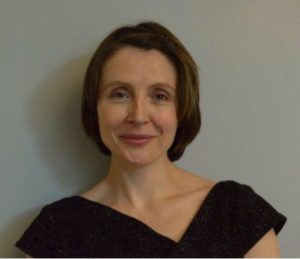 We're excited to introduce you to nutrition professor Dr. Shannan Grant from Halifax, Nova Scotia! As an Assistant Professor and Registered Dietitian in the Department of Applied Human Nutrition at Mount Saint Vincent University (MSVU), Shannan focuses on research to answer community-based nutrition questions. She's interested in assessment of nutrition education / intervention from both the perspective of the patient / client and the health care professional. She specializes in using integrative knowledge translation (KT) strategies, classical behaviour change theories and core education principals. In partnership with her colleagues, Shannan excels in developing, implementing and assessing dietary interventions. She is particularly interested in working with health care professionals and patients to assess novel approaches to chronic disease prevention and treatment and she has 15 years of experience working with clinical trials (randomized control trials). Shannan believes in the power of media as an important way to engage with her community and has experience with radio, print and broadcast media. We know you'll enjoy reading about Shannan's media experiences and will find her tips and advice valuable when preparing for your own media interviews!
How did you get started in the media? 
Growing up in Cape Breton, Nova Scotia, part of a family deeply committed to community involvement and outreach, I was introduced to newsprint media at an early age. I recall being in "the paper" (Cape Breton Post) for many milestones, including first day of school and also when my sister and I were interviewed about our pet rabbits. These experiences definitely molded how I view and interact with various types of media. To me, media is just another way to engage with community.
What was your most memorable interview and why?
My most memorable interview was in high school. I was representing Holy Angels High School at a weekend long Sydney Academy (International Baccalaureate Program) Conflict Resolution Seminar at the Coast Guard College. There, I had my first televised interview and gained insight into the importance of "key messages". As a teenager at the time, with very little audiovisual media experience, I thought everything they recorded would make it to air. When I watched my interview when it aired, I quickly realized this was not the case. This experience stuck with me and launched my interest in media preparation.
Have you ever experienced a "fumble" during an interview, and if so, how did you fix it / what did you learn from it?
In addition to my answer to the question above, I would have to say "yes". I am stronger in written and audio/ radio media, and trying to grow my comfort-level with visual media. One example of what I consider a fumble (there are more than one 🙂 ), was when I showed up to a visual media appointment in a black and white checkered blazer over a one-piece dress. As Sue and Gina have reinforced in their Media Bootcamp workshops, this made a difference (more than I could have imagined). My clothing choice did not show well on screen. For instance, my clothing looked very blurry, so we had to have me complete the interview in my white dress (which washed me out on screen). Moreover, the team and I had to run my mic up my dress and clip it awkwardly on my collar.
Can you share one tip or a nugget of expert advice for dietitians who would like to work / who are working in the media?
I'd like to share three:
Say "yes" to that interview (research shows women are less likely to take an interview they are qualified for in comparison to men).
Prepare, prepare, and prepare some more.
Approach everything with a learners' mind (they call it dietetic "practice" for a reason).
A little more about Shannan:
The featured photo of Shannan (circa 2008) is from one of her longest standing media appearances – on the Sandy Lake Health and Diabetes Project Diabetes Prevention Program Radio Show. It's a call-in show, and would run a full afternoon and we could answer questions from Sandy Lake First Nation Community members and beyond. She says "it was an amazing experience I will remember always. It taught me to think on my feet, be myself, and practice client-focused communication. It also helped me practice and get feedback on my Oj-Cree (language). I occasionally take nutrition students on the show with me to this day –  to expose them to radio media and community-based education".
In addition to the work mentioned above, Shannan is working with a variety of communities. She and her colleague Dr. Bohdan Luhovyy just obtained funding through Medavie to work with the Fairview Breakfast Program on a project called "Breakfast and Beyond". She also works to support educators in including nutritional science education in STEM (Science, Technology, Engineering and Math) education using extra-curricular activities. Her most recent partnerships have been (and are) with Imhotep Legacy Academy, Dalhousie University, Pictou Landing First Nation and Sipekne'katik First Nation, funded by a Natural Sciences and Engineering Research Council of Canada (NSERC) PromoScience Grant, Sandy Lake First Nation and Let's Talk Science.
In her work, training and mentorship activities, she highlights the capacity nutrition professionals have to play as a key role in KT. As a strong believer that education activities inform research and vice versa, she is passionate about educating my students about the research process and enjoys guiding them as they develop knowledge and skills to become engaged in the knowledge-to-action process.
If you would like to contact Shannan or follow her on social media:
Her MSVU faculty page can be accessed via this link:  https://www.msvu.ca/en/home/programsdepartments/professionalstudies/appliedhumannutrition/facultyprofiles/shannangrant3/default.aspx. She is in the process of updating her GrantLab website, which will link off her faculty page, so stay tuned.
You can also follow Shannan on:
Twitter: @SGrant_PDt_RD
LinkedIn: @SGrant_PDt_RD