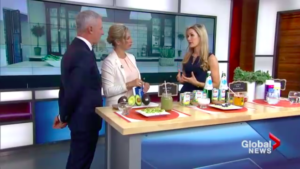 We're excited to introduce you to dietitian entrepreneur Nicole Osinga from Ontario! To her audience, Nicole is known as the 'plant-based meal prep expert.' She believes in the power of plant-based foods to improve our health and wellbeing. On her Instagram, each week Nicole engages her audience by showing how plant-based foods can be transformed into beautiful dishes, through meal planning and prepping. Nicole owns her own private practice in the greater Toronto area and shares her knowledge and talent with her local individual clients, her international online audience, and with audiences of various national print and broadcast media outlets. We know you'll love reading about Nicole's media experiences and will find her media tips and tricks immensely helpful for preparing for your own media interviews!
How did you get started in the media? 
I got started when I started my private practice in 2014/2015 and wanted to promote my services on our local Rogers TV. Another local Dietitian colleague, Andrea Miller introduced me to the host after I went to watch one of her segments, and the rest is history! I was regularly featured on Rogers for a few years, giving me lots of practice in front of the camera. I then have been featured on other outlets since, including the National Global Morning Show.
What was your most memorable interview and why?
I did a segment on the Morning Show Toronto last year around foods/nutrients that can help prevent us from getting sick. I turned it into a game where the hosts had to vote on if they had to supplement or not to get enough of each of the nutrients I featured. I can tell that they loved the game because it got them competing, smiling and laughing! I find that hosts enjoy more than just information sharing segments. So find ways to make these segments fun!
Have you ever experienced a "fumble" during an interview, and if so, how did you fix it / what did you learn from it?
For sure! I mistakenly called 'devilled eggs' eggs benedict when I was starting a segment on the Morning Show. Good thing the host corrected me right away – and we just rolled with it! I remember I was super sleep deprived for this segment. So my tips are 1) get some sleep before your segment and 2) just roll with any mistakes you might make on camera – it's no big deal!
Can you share one tip or a nugget of expert advice for dietitians who would like to work / who are working in the media?
Send talking points/a script outline (not a whole script) to your producer and host ahead of time, so they can ask you the right questions and stay on track! They will appreciate it as well. With nutrition segments, questions can be asked from hosts that totally have nothing to do with what we're talking about in the segment LOL. I have been asked about the keto diet before when I was talking about plant-based nutrition swaps…like what?
Also if someone if available to come with you to the segment, bring them! It's super helpful to have and extra set of hands for set up and just a buddy for moral support! I usually bring either my fiancé or my mom to my segments and they're always super helpful. It's fun for them too.
A little bit more about Nicole:
Nicole holds a Bachelors and Masters degree in Human Nutrition from the University of Guelph. She is located in the Greater Toronto Area. Nicole brings a fresh and evidenced-based perspective, while working towards practical nutrition solutions with her clients and her online audience.
To contact Nicole or follow her on social media:
Website: NicoleOsinga.com
Instagram: @nicoleosinga_RD