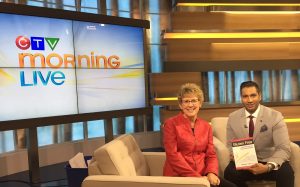 We're thrilled to introduce you to Shelley Case, leading international dietitian expert on the gluten-free diet! Shelley is also an author, speaker and consultant with more than 35 years' experience. She is a member of the Medical Advisory Board of the Celiac Disease Foundation and the Canadian Celiac Association's Professional Advisory Council. Shelley is a sought-after media source, conducting hundreds of radio, television, newspaper and magazine interviews throughout North America such as the NBC Today Show, CNN, CBC, CTV, Global TV, Wall Street Journal, WebMD, National Post, Globe and Mail, Food Business News, Chatelaine and Canadian Living. As a popular speaker, she delivers numerous presentations at medical, nutrition, celiac and food industry conferences throughout North America. Shelley's best-selling book Gluten Free: The Definitive Resource Guide is highly recommended by health professionals, celiac organizations, consumers, the food industry and media. We're certain you'll enjoy learning more about Shelley and reading about her media experiences and her tips for your own media success!
How did you get started in the media? 
In my first job at the Metabolic Diabetes and Diet Education Centre in Regina, Saskatchewan, I was responsible for counselling children and adults with various conditions such as diabetes, heart disease, obesity, cystic fibrosis, food allergies and gastrointestinal disorders including celiac disease. Shortly after starting the position, I had to give continuing education presentations to health professionals on the nutritional management of diabetes that not only required knowledge about the subject, but being able to think and react quickly during the question period. Over time I developed more skills and continued to speak on other conditions especially food allergies and celiac disease. In addition to my professional commitments at work, I became very involved with the Saskatchewan Dietetic Association including nutrition month activities/media events, other committee work and various positions including president.
Early in my career, I saw many opportunities for dietitians to spread the message about health and nutrition on TV, radio and in newspapers. Even though I did not have any media experience I decided to jump right in and contacted TV and radio producers and the local newspaper food columnist with story ideas. To my surprise, it was relatively easy to get their attention and be a guest on the show or secure an interview with the columnist, as so few dietitians and other health professionals were reaching out to the media.
Landing media opportunities is one thing but delivering a great interview is another story! I know those initial interviews were not so polished, but at least I was giving accurate information to the public. It certainly has taken a lot of practice and time to hone my media skills over the years and I continue to keep working on improving my delivery.
What was your most memorable interview and why?
That's an easy one…theNBC Today Show in New York! Many wondered how in the world I landed that interview back in 2003. I had written 2 editions of my book on the gluten-free diet. During a speaking engagement in the United States, I gave signed copies of my book to the other speakers including Dr. Alessio Fasano, one of the world's leading medical experts in celiac disease. He had done a ground-breaking study about the prevalence of celiac disease in the US so NBC did a taped 6-minute interview with him and several others. The producer felt they needed a dietitian to do a live 3-minute interview on the gluten-free diet following that taped one to round out the story. Dr. Fasano had given NBC the names of several American dietitians and me from Canada. Fortunately, I got the call while on vacation at the lake on a Tuesday morning asking if I come to NY on Thursday for the dress rehearsal and Friday morning live interview. I only had 2 days to make many arrangements for child care, get my hair styled and an outfit to the dry cleaners; phone calls with the producer and art director about the segment, etc., plus conduct talk radio and newspaper interviews with the local media in Regina about my upcoming appearance in NY. I was so blessed to have my husband join me, so he could be in the studio to see the interview as well as enjoy the weekend checking out the NY sights including several Broadway shows.
Our trip to NY turned out to be way more eventful than planned! A few hours after we landed in a very hot, muggy NY and got to the hotel the power blacked out. We had no idea what was going on but needed to get to the NBC studio for the dress rehearsal. When we went outside the hotel the city was in chaos with people streaming out of buildings and traffic at a standstill.
We walked the 10 blocks to the NBC studio and managed to do the dress rehearsal because there was a large window letting enough daylight in. After returning to the hotel we got changed and looked for somewhere to eat but every place was closed. However, we found a deli that would let you in if you had American cash. Thankfully we had some so they gave us a flashlight to see and we purchased some nuts, chips and bottled water. We sat in Central Park eating our snacks watching people look confused and wandering around.
Arriving back at the hotel at dusk we were given a glow stick, so we could see to get to our room. It was a very eerie feeling looking out our hotel window seeing a pitch-black NYC and not knowing what was happening especially after 911 a few years earlier. My mind was racing all night trying to stay calm for the big interview. I was thinking about what was going on in the city and the key messages that Dr. Fasano's team wanted me to mention especially about the need for improved FDA food allergen and gluten labelling regulations. I hardly slept the whole night even though my husband was sawing logs. At 5 am the lights and air conditioning came on. He looked at me asking if I slept and I said, "Does it look like it?" I went to the bathroom to shower and wash my hair but no water!!! I almost cried but hung in there. Thirty minutes later the water came on, so I quickly showered, did my hair and put on makeup, and off to the studio we went.
I saw a limo at the front door but did not know it was for me (NBC had left a message on the hotel phone about the limo, but I did not get because the power had been out) so we walked all the way to the studio. When we got there the security guard was not going to let us in because he said my name was not on the list. I frantically tried to explain that I had been in the studio the day before for dress rehearsal, but he did not believe me. Fortunately, I had a copy of the email from the art director about the foods for the segment so when he saw that we could go in. No one was in the studio and all the foods that had been arranged for the interview the night before were gone. I said to my hubby this is not a good sign. My producer was not there but a staff member led us to a secure outside area where the NBC hosts were broadcasting the show. We then learned about the historic eastern US and Canadian power blackout. As a result, all the scheduled guests were cancelled. I could not believe it… flying all this way and not getting on the show!! But at least I got to met Katie Couric and had some photos together.
On our way back to the hotel I got 2 calls on my cell phone: CBC radio and CTV Regina asking if they could interview me about what was going on in NYC during the blackout. I did the CBC radio in the morning and CTV featured me as the lead story on 6 pm dinner news. Both interviews mentioned that I was a registered dietitian and author in NY to appear on the NBC Today Show discussing celiac disease and the gluten-free diet. So, for not being on the show I still got lots of publicity!
But it gets even better. Later that day we went back to the NBC studio and connected with the art director. We found out that I was the only Friday guest rebooked to Monday morning. They asked if I could stay and of course I said yes as we had already planned to see some shows over the weekend. On Monday morning I got ready again and a limo took us to the studio. They touched up my hair and makeup and then it was showtime! I listened very carefully to the taped segment, so I knew what was said before they segued into my live interview. The 3-minute interview flew by and I managed to get in all the key messages, plus they highlighted my book at the beginning and during the interview. This media trip to NY was truly an amazing experience that I will never forget!!!
Have you ever experienced a "fumble" during an interview, and if so, how did you fix it / what did you learn from it?
Sometimes I have lost my train of thought especially during very early morning TV appearances because I often don't sleep well the night before. During those scary times, you just need to pull yourself together and carry on. That is why I love to have food props arranged in a specific order as cues to help keep me on track with key messages.
Can you share one tip or a nugget of expert advice for dietitians who would like to work / who are working in the media?
When I do a radio interview, I usually "talk with my hands" and smile to help project enthusiasm. This is important especially if you are not in the studio with the host(s) because it is so easy to sound monotonous. Whether it is radio or TV, the key is to be passionate and have fun. Listeners/viewers not only want information but also like to be entertained. We have the knowledge but also need to sell the sizzle!
To learn a little more about Shelley:
Shelley has been recognized for her major contributions to the field of celiac disease and dedication to educating health professionals and individuals with celiac disease and gluten sensitivity, by being awarded the Queen Elizabeth Golden Jubilee Medal. In addition to her nutrition and health expertise, Shelley is also accomplished musician who enjoys playing piano and keyboard at church and for special events. After living in Regina for over 32 years, Shelley and her family relocated to Calgary, Alberta in the fall of 2018.
To contact Shelley or follower on social media: 
Website:  https://shelleycase.com
Instagram: https://www.instagram.com/glutenfreequeen/
Twitter: https://twitter.com/shelleycase
Linkedin: https://www.linkedin.com/in/shelleycase/
Facebook: https://www.facebook.com/GlutenFreeTheDefinitiveResourceGuide/