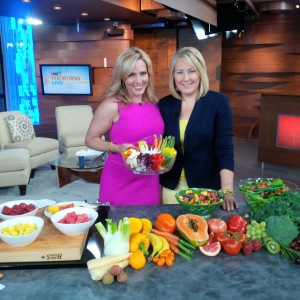 Featuring west coast dietitian Patricia Chuey – media dietitian superstar and recipient of the Dietitians of Canada 2017 Ryley Jeffs Memorial Lecture Award. 
In our new Secrets of Success series, we are interviewing Canada's top media dietitians to share their media experience, insights and nuggets of wisdom to help YOU be a media rockstar! We're sure you will enjoy learning about more about Patricia's extensive media experience and some of her top tips for media success!
Active in the media since her first newspaper column in 1990, Patricia Chuey is a well-known Canadian food and nutrition expert. Known as "The People's Dietitian" she specializes in delicious, nourishing ideas that are easy to put into consistent practice to enhance well-being. The author of The 101 Most Asked Nutrition Questions, she has also written 5 cookbooks.
How did you get started in the media?
My earliest media work was penning newspaper columns for various communities in Saskatchewan in the early '90s. This was part of my job as a Public Health Nutritionist with a team of community nutritionists. I learned SO MUCH about key messages from those colleagues! I went on to have a regular sport nutrition column in the Saskatoon Star Phoenix, a weight loss series in the Vancouver Province, and another weight loss series in the National Post. I also wrote a 16-week sport nutrition column for the Vancouver Sun for many years leading up to the annual Sun Run, Canada's largest 10k race. Later, I became a recipe columnist for the Vancouver Province.
My first TV interview was in the spring of 1995 when a "new" diet book called The Zone was all the rage. Global TV (then BCTV) was looking for a dietitian to comment on what might be positive about the 40-30-30 approach while another dietitian was there to point out the drawbacks. I knew she and I would be on the same page in our 'debating'. The 5-minute on air chat went well. I was invited back a couple weeks later to talk about folic acid's role in pregnancy as that was news at the time. From there, the hosts asked if I'd be interested in a weekly appearance. They liked that I was my own business, not affiliated with a specific organization. After nearly 5 years and about 250 appearances, including monthly live on air viewer question call-in shows, I was ready for a change. I introduced the producers to Diana Steele, RD who has been there every Tuesday noon hour ever since! That's ALOT of appearances. Since then, I've been involved in many media projects including a series of Meal Solutions segments for grocer Save-On-Foods, 48 episodes of a national cooking show called What's Cooking and more. I currently appear monthly on CTV in Vancouver, regularly get called upon for radio and print interviews and mentor dietitians working in media.
What was your most memorable interview, and why? 
The first one was very memorable simply for being the very first, as was the third one which was the start of my regular weekly nutrition segment on TV. Perhaps most memorable of all was the time I was interviewed for CBC's The National. It was the lead story about new regulations concerning trans fat in food manufacturing. A lifelong fan of Peter Mansbridge, it was surreal for me to watch the start of the newscast that night and hear him introduce the piece I was in which was the lead story that evening. He recently retired. Like many Canadians, I miss him already. It is also always memorable to this day to have the privilege of being quoted in notable Canadian publications like Maclean's, Canadian Living and The Globe and Mail.
Have you ever experienced a 'fumble' during an interview, and if so, how did you fix it / and what did you learn from it for next time?
To be human is to fumble. I don't like to work off a memorized script but rather to just speak naturally and authentically about what I know. I usually feel pretty good about my segments knowing how much advanced prep went into everything from the comments to food props to travel and what to wear. One example fumble is the time I said lighter coloured egg yolks indicate eggs are not as fresh as darker yellow. This was not entirely correct as it has more to do with the diet the chickens are fed than the freshness of the egg. Live TV is hard to go back and correct, but corrections can be made to blog posts related to the segment or in the comments section on the stations website where the segment may be archived. Thankfully I have amazing media colleagues like Sue Mah and Gina Sunderland to vent, share, celebrate and laugh with whether things go stunningly or not quite as planned.
Can you share one tip / or a nugget of expert advice for dietitians who would like to work / who are working in the media?
Always put yourself in the shoes of the viewer. Think about what would you find helpful if you were taking time out of your day to watch the segment. Offer at least one or more take away tips that might be novel ideas they haven't heard of, cool kitchen hacks, something delicious and new to try or a tip that if done consistently will significantly improve their health over time. Don't waste their time with a script that is more about you than them.
Thank-you Patricia for sharing your expertise, valuable media insights and wisdom with Media Training Boot Camp! Your experience is certain to help all dietitians who work in the media and those aspiring to do so!
For more information about Patricia, or to contact her you can reach her at:
Website: PatriciaChuey.com
Instagram: @PatriciaChuey
Twitter: @PatriciaChuey
Facebook: @PatriciaChuey