Hannah Magee is a Registered Dietitian, food blogger and media nutrition expert whom I first met during my term as the Co-Chair of the Dietitians of Canada Media Network. If you're not already a fan of Hannah's, you will be after reading her story and checking out her beautiful recipes on Instagram! Enjoy the read!

How did you get started in the media and working as a recipe developer?
For many years I've loved not only cooking and baking, but also reading food and healthy living blogs. When I was in university studying to become a dietitian, I decided to create my own blog and Instagram account to share the recipes that I was making when I wasn't studying or playing on my school's varsity soccer team. I continued to post throughout my degree and dietetic internship and during this time I started following several dietitians whose full-time job was to share healthy recipes and/or communicate nutrition messaging online and in the media. I was so in awe of the work they were doing!
When I completed my internship, I started working part-time as a clinical dietitian and continued to work on my food/nutrition blog and social media accounts part-time. In 2019, I participated in a mastermind course for media dietitians, and in the course I was encouraged to reach out to my local news station and see if they would have me on. Shortly after I took the leap and reached out, and luckily the station agreed to have me on for an interview about plant-based BBQ recipes. I loved every bit of it, and since then have become a regular at the station and have my own bi-monthly segment called Healthier with Hannah.
2. What's the best 1 or 2 things about your job?
My favourite parts of my job are the creativity that it allows me, and the ability to reach thousands of people every day with realistic, evidence-based nutrition messaging. I love the creative side of my work – taking food photos, editing, writing, and styling displays for my TV interviews all while communicating practical, evidence-based information about nutrition and healthy eating.
3. What's the most challenging 1 or 2 things about your job?
The business-side of things. I'm a nutrition entrepreneur, but my education, training and expertise is in nutrition. Not business. When I was in school for nutrition, I didn't think I'd ever own a business. So when it came to the few mandatory business courses we had to take, I'll be honest, I probably didn't pay as much attention as I should have! There have been a lot of learning curves for me when it comes to business accounting and taxes, budgeting and contract negotiations among other things.
4. What was your most memorable interview and / or recipe – and why?
I think my most memorable interview was my first one. Because I had been dreaming of doing television interviews for a while, it felt amazing to finally take the leap and try it! Being on live television was exhilarating and actually felt pretty natural to me. When the interview was done and had gone really well, I was hooked! (And on top of the world!) Here's an image from my first interview.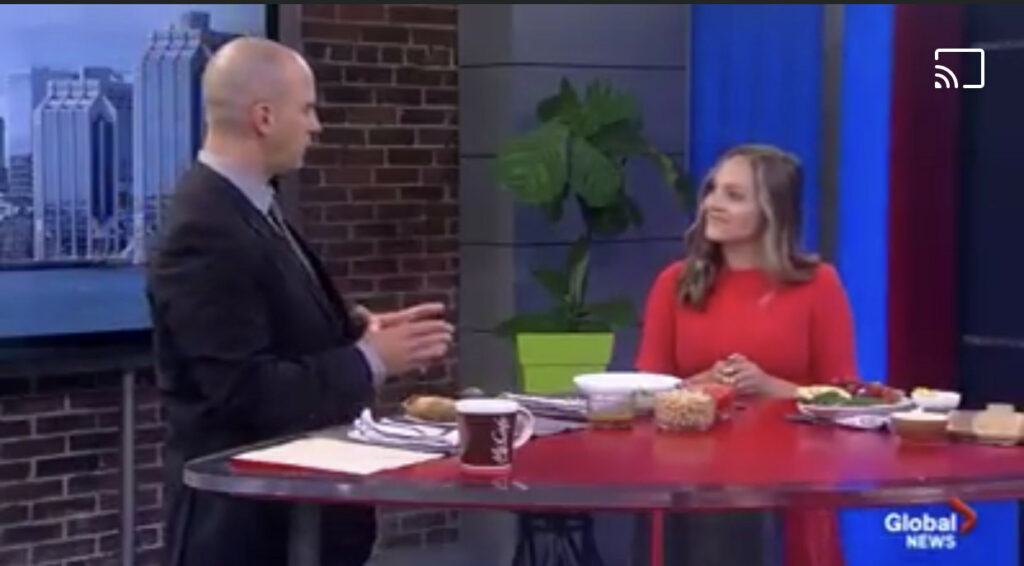 5. Have you ever experienced a 'fumble' during a media interview, and if so, how did you fix it / and what did you learn from it for next time?
I practice a lot before my interviews, sometimes to the point where I may be over-practiced and feel caught off guard by questions that I wasn't expecting. In these situations, I try my best to give a brief answer then circle back to my key messaging, but what I have learned from experiences like that is to try to be more flexible and less "scripted". It's important to have structure, but it's also important to be able to roll with the punches of an interview!
6. Could you share one tip / or a nugget of expert advice for dietitians who would like to work / who are working in the media or in recipe development?
For those who would like to work in media/recipe development, my tip is to go for it! You never know what it could lead to, and you'll never know unless you try. My other tip is to be assertive and persistent. Whether you're working with brands or pitching a TV station, you may have to follow up or feel like you're "bugging" someone in order to get a response, but for me that's just part of the job. I love the saying "the squeaky wheel gets the grease" as a reminder to remain persistent when creating opportunities for yourself.

You can find Hannah:
Blog: https://hannahmageerd.com/

Instagram: @hannahmagee_rd
Twitter: @hannahmagee_rd
TikTok: @hannahmagee_rd
Link to Hannah's food photography ebook: https://hannahmageerd.com/downloads/food-photography-for-beginners-guide/