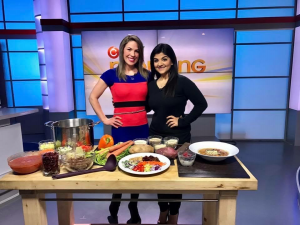 We're excited to introduce you to Saskatchewan's media savvy, registered dietitian entrepreneur Crystal MacGregor! Crystal is the Director of Innovation, Research & Development & Merchandising at Epicure where she leads dynamic product development, recipe development and merchandising teams who share her passion for sharing good food. She is also Dietitian's of Canada Food & Culinary Network Co- chair and a Nutrition Month Spokesperson volunteer.
How did you get started in the media? 
During my internship, I was lucky enough to spend 2 weeks focusing on sports nutrition with the very talented RD, Pam Lynch. During that time I had my first taste of the media when she invited me to help with her Breakfast TV Live in Halifax. I was so excited to be included in the segment and enthusiastically soaked up every moment. Years later, I took a media training workshop that was offered by Dietitians of Canada where I learned to hone my message, how to prepare and how best to use media to effectively share key nutrition messages.
Then fast forward years later to 2010 when I lived in Regina, Saskatchewan. I volunteered as a Nutrition Month Spokesperson. After my first interview with CTV Regina Morning Live, the producer asked me if I would be interested in doing additional nutrition segments. Of course, I said yes! I was so lucky to have had the opportunity to provide over 100 nutrition segments during the five years I lived there.
What was your most memorable interview and why?
My most memorable interview was for the 2018 Nutrition Month campaign. I was able to have the media join me for the first time in my home and was grateful to land 3 nutrition segments that would air every 30 minutes one morning. This was a first for me and it was memorable because I was able to have all of my displays ready to go; the kitchen was all set up, there was time to brief the host in between segments on key messages, and I did not have to travel. It was a busy early morning of shooting, taking down props and setting up for the next segment, but I found it exhilarating and fun. Sometimes, the media is willing to come into the community (aka your home!). If it works for you, give it a try!
Have you ever experienced a "fumble" during an interview, and if so, how did you fix it / what did you learn from it?
Sometimes, you just never know what will unfold in an interview. There was one time I was doing a healthier cocktail segment for CTV Regina Morning Live. The host and myself were standing for the interview in front of a tall table display and since I was wearing a belt, (note: belts are great for holding microphone lav battery packs), the producer added both mic packs to the back of my belt. No problem, right? During the interview when the host went to shake a cocktail the lid of the shaker cup went flying and was unable to pick it up since we were attached by the mics. It added comedic humour for sure and I remember quickly grabbing a small prep bowl, added it to the top of the shaker and started shaking the cocktail saying sometimes making a cocktail is a team sport and laughed – you can always improvise.  I've learned to just go with the flow. Learn from the experience, focus on the positive, what you will do differently next time and keep moving forward. If ever I use that cocktail shaker again I'll be sure to brief the host before hand to watch the lid.
Can you share one tip or a nugget of expert advice for dietitians who would like to work / who are working in the media?
"If somebody offers you an amazing opportunity but you are not sure you can do it, say yes – then learn how to do it later!" Richard Branson
Here are my 5 best tips for your next interview:
Be yourself– Be authentically "you", be human – it makes you more relatable.
Be prepared –What is the purpose of the interview? Write out your 3 key messages you want to share. Think about what are you hoping that everyone will walk away knowing after your interview. What props you will bring? Be sure to ask what kind of set up space and how much time to set up you will have. I did a segment for Global Montreal a few years ago and it was in a green room so was told not to have green veggies. So glad I knew before hand.
Have props – This helps you stay focused, adds visual interest and may even help keep the interview on track.
Have fun – You've landed an interview because you are awesome. Congrats! Take a deep breath and have fun during your interview.
Ask for feedback – Get feedback from mentors, colleagues, family and friends. This will continuously help you grow and become even better. I am forever grateful to have had media rock star dietitian, Patricia Chuey, mentor and share key insights with me to continuously improve along the way.
A little more about Crystal:
Crystal has over a decade of experience and knowledge working in many innovative areas of dietetics: food industry, sports centers, school boards, grocery stores, hospitals and product development. She is a good food advocate and personal training specialist. She is currently working for Epicure and has excelled within the company in various innovative roles since 2007. She loves that Epicure shares the same philosophy of inspiring home cooks everywhere to make fabulous (and healthful) food easily with good food, real fast! Crystal holds a Bachelor's Degree in Science with a Major in Nutrition from the University of Prince Edward Island where she also completed her dietetic internship. She currently lives in Moose Jaw SK, with her husband and is grateful for the opportunities she has had to live and work all across Canada. She loves the joy of cooking, the power of working out and is constantly researching to stay up to date with the latest health trends.
To contact Crystal or follow her on social media: 
Website: Crystal MacGregor.com
Istagram: cmacgregor
Twitter:​ CrysMacGregor
Facebook: ​Crystal MacGregor