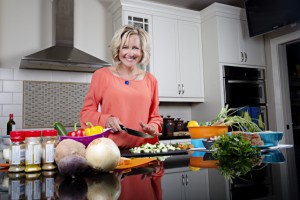 Kristyn is a high-energy, Calgary-based dietitian and the CEO (Chief Energizing Officer & Chief Eating Officer) with Energize Nutrition. She'll infect you with her passion and enthusiasm for good quality food and sound nutrition. Kristyn has worked with hundreds of women and men over the age of 40 years, inspiring them to use food as fuel for their vitality and wellness, one bite at a time. We're certain you will enjoy learning about more about Kristyn, her background, diverse media experience, and some of her fantastic and practical tips for media success!
How did you get started in the media?
I got started in the media back in 2001 when I worked in a prenatal nutrition program (before the time of social media)! I did my first interview on nutrition in pregnancy. After that, I continued to do TV, radio and print interviews as part of work I did for my local health authority, as well as freelance work. At the time, this was an area that dietitians were gaining more experience with, so I took a few courses in media work from Dietitians of Canada and from my employer. Getting some proper training in media relations allowed me to consider perspectives I hadn't considered and armed me with strategies to engage in media work with confidence.
What was your most memorable interview and why?
My most memorable interview was work I did on behalf of the BC Blueberry Council. I did a recipe demonstration featuring BC Blueberries. What I loved about this interview was the chemistry I had with the interviewer, Scott Fee. I felt that the interview flowed really well, I was able to involve Scott in the recipe demonstration and the segment was full of good information, plus practical tips for eating more blueberries.
Have you ever experienced a "fumble" during an interview and if so, how did you fix it / what did you learn from it?
Absolutely, I have experienced a fumble during an interview! Thankfully, this was earlier in my media work, before the days of social media. There is a difference between being an active versus a passive interviewer. When you are passive, you are simply responding to the interviewer's questions, without giving much thought into what key messages you would like to get out. This is in contrast to being an active interviewer, where you have clearly thought about and prepared a few key messages related to the interview topic. Going to the interview prepared with key messages is critical to maximizing the media opportunity and showcasing your knowledge and expertise! I had one radio interview where I had 30 minutes notice for the interview. I did not have time to prepare and simply went off to the station for the interview with the then Medical Officer of Health. The interview went okay – but it was a bit of a missed opportunity to really shine! What I would do differently would be to have a core key message "bank" of bite-sized messages from which I could draw for these interviews.
Another time, I went to the TV station for an interview on obesity. Again, it was early in my media work, and this time, I was prepared, but didn't manage the interview well. I simply responded to the interviewer's questions, but I didn't use my media skills of bridging back to my key messages and wasn't assertive enough to make sure that not only did I respond to her direct questions, but also that I proactively shared the key messages that I came armed with. Live and learn!
Can you share one tip or a nugget of expert advice for dietitians who would like to work / who are working in the media?
One of the key strategies I use when I do media work is to have a 1-2 sentence snappy opener prepared to get the interview going. This 1-2 sentence opener has a few benefits. Most initial interview questions are fairly open-ended and so there is lots of room to get your first key message out in a way that is very memorable. It also helps to steer the interview in the direction you would like to go. Perhaps more importantly, it helps you get your nerves out as you say what you had planned to say and that, for me, helps to build positive momentum for an awesome interview.
For more information about Kristyn:  
Kristyn was named as one of the Top 10 Dietitians in Calgary, 2017 and 2016. She was also named a Centennial Alumni of Influence by the College of Pharmacy and Nutrition, University of Saskatchewan in June 2014. Kristyn is an active contributor to Dietitians of Canada and has receiving two Volunteer Recognition Awards.
Kristyn has a Master of Science in Nutrition from the University of Saskatchewan and is in her 18th year of practice as a nutritionist and dietitian. Over her career, Kristyn has worked in community nutrition and public health, helping people across the life span – pregnant women, children, youth, men, women, and parents. Her degrees in nutrition and psychology, her certificate in Culinary Arts, along with training in Solution-Focused Counseling, motivational interviewing and health coaching, have helped Kristyn coach people about food and nutrition to help them feel better.
Kristyn is an experienced writer, publishing evidence analyses in the internationally recognized Practice-based Evidence in Nutrition (PEN) Dietitians of Canada database on diverse topics including toddler and preschooler nutrition, pediatric obesity intervention, safety of soy across the lifespan and lactose intolerance. She was the Editor of PEN eNews, an internationally read newsletter about evidence-based dietetic practice.
Kristyn "lives it to lead it", eating (mostly) nourishing food to fuel an active lifestyle, while saving room for indulgence! Kristyn has completed several 10 km road races, two sprint triathlons, two Gran Fondos, and has run three half marathons. She is a busy mother of two very active boys.
To contact Kristyn you can reach her at:
Website: www.EnergizeNutrition.ca
Facebook: www.Facebook.com/EnergizeNutritionInc
Twitter: @kristynhall
Instagram: @kristynhall99