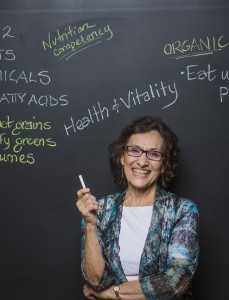 Featuring Vancouver, BC-based dietitian Vesanto Melina, MS, RD – media dietitian and well-known author.
Vesanto Melina, MS, RD is lead author of the Academy of Nutrition and Dietetics' current Position Paper on Vegetarian Diets. She is an internationally known speaker and co-author of award winning books that are classics on plant-based nutrition, most with Brenda Davis, and now in 11 languages. Their most recent book is Becoming Vegan: Comprehensive Edition, written for dietitians, MDs, other health professionals, and nutrition enthusiasts, with 620 pages and entirely referenced. Becoming Vegan: Express Edition is a more condensed version for the general public.
In our Media Training Boot Camp Secrets of Success series, we interview Canada's top media dietitians and have them share their media experience, insights and nuggets of wisdom to help YOU be a media rockstar! We know you'll enjoy learning about more about Vesanto, her background, diverse media experience, and some of her fantastic and practical tips for media success!
How did you get started in the media? 
I recall doing an interview on BCTV in 1969 with my son Chris who was then 18 months old. I had been teaching nutrition at the University of British Columbia, stopped to have a baby, and then had the fun of introducing him to solids and then to the world of food preparation. Chris and I went on television together and did a short, fun little clip about how to get kids to like healthy foods. Our only challenge was that he got hungry as we were driving to the television studio (earlier than planned) and so I then had to give him some of the foods I had planned as props. But it still went pretty well.
In the mid to late 1970's, when my son and daughter were in school, I returned to work as a public health nutritionist. I did a television series in collaboration with local physicians on the topic of reducing risk of cardiovascular heart disease.
What was your most memorable interview and why?
In 1993 I published my first book "Becoming Vegetarian". We had the good fortune of being an idea whose time had come; we were just at the beginning of the growing enthusiasm for plant-based diets. My first publisher, MacMillan Canada, brought me to Toronto for a book launch and arranged at least 5 interviews a day for 3 days, with Toronto television stations and print newspapers and magazines. I went on Canada AM at 6 in the morning; had stylists fussing with my hair before I went on air; had food stylists creating gorgeous arrangements of colourful beans and vegetables; and was then transported to my next interview by limo. I think those might have been the good old days for dietitians in media. Now we have to do most of that ourselves!
How did you learn to improve your interview and speaking skills?
My first paid job was teaching university and my family members were either in academia or theater, so I had some stage presence. Yet I had to learn about timing, how to deal with pauses, and how to avoid saying "Um".  I found joining and regularly attending a local Toastmasters group to be invaluable in paying attention to a multitude of speaking skills.
More recently, I needed to upgrade my skills in preparation for my Dietitians of Canada Ryley Jeffs presentation (which you can read if you log into the Dietitians of Canada member website at   https://www.dietitians.ca/About-Us/Awards-and-Recognition/Ryley-Jeffs-Lecture-Award/Ryley-Jeffs-Memorial-Lecture-Award-2016.aspx
or purchase in video from the linked store on the website.
For this, I hired a speaking coach, Carla Rieger http://carlarieger.com/ whom I knew to have considerable expertise in doing and helping other prepare for Ted Talks and many aspects of speaking and being interviewed. This experience was outstanding.
Can you share one tip or a nugget of expert advice for dietitians who would like to work or who are working in the media?
After I have done a book, or if there is a project about which I am likely to be interviewed, I prepare a list of questions that interviewers might like to use. I send this to interviewers prior to our time on air. Of course I offer them the freedom to ask what they like. However I assume that they might not have had time or opportunity to look at my book, or to become familiar with the topic. The topic might not even be of particular interest to them.
Offering this question list has 2 advantages. First, it allows them to ask really good questions that they might not have come up with themselves. Second, it provides them with questions that I can actually answer, rather than taking us off into areas far beyond my expertise. I also keep a second list for myself with points about answers to all the questions.
In the past 2 years Vesanto has received a standing ovation for delivering a keynote address at Dietitians of Canada's National Conference. She has spoken to packed audiences in Granada Spain to the 17th International Congress of Dietetics and to both health professionals and the general public in Reykjavik Iceland. Vesanto has also spoken at events in Vancouver, Winnipeg, and Montreal Canada; and in California, Washington State, and Washington DC.
​Thank-you Vesanto for sharing your experiences, unique media insights, fabulous tips and words of wisdom with Media Training Boot Camp! We know your great tips will be invaluable for dietitians who work in the media and those aspiring to do so!
For more information about Vesanto or to contact her you can reach her at:
Websites: https://nutrispeak.com/ and https://becomingvegan.ca/
Email: vesanto.melina@gmail.com
Twitter: @VesantoMelina