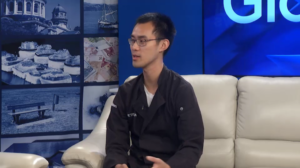 We're excited to introduce you to dietitian Charles Ko from Ontario! Charles is a Loblaws dietitian in Kingston Ontario and lives by the philosophy to say YES to new challenges, including embracing opportunities to share his messages about healthy eating, foods and nutrition in the media in print, on radio and live television. We know you'll love reading about Charles' willingness to embrace and pursue media opportunities, and will will find his candid insights immensely helpful when preparing for your own media interviews!
How did you get started in the media? 
I got started in media through working as a retail dietitian at Loblaws. I remember vividly after working a couple weeks in the role, I got an email from my senior manager asking if I would be interested in appearing on the Morning Show on CKWS, a division of Global News in Kingston. For me, media was something I knew few Loblaws dietitians got the opportunity to pursue, and my philosophy after graduating from Ryerson was to just say yes to all opportunities. Therefore, after saying yes to that opportunity, I began pitching ideas to the television station and other media opportunities eventually came along. To date, I've done live television, a radio show and have been quoted in written articles. I have to say that what prepared me for media was first the undergraduate training I received from Ryerson. Through Rena Mendelson's nutrition communications class, it gave me the transferable skills to apply to media, in addition to the advice I received from other Loblaws' dietitians and the PR team at Loblaws.
What was your most memorable interview and why?
My most memorable interviews to date were on January 22ndand 23rd, 2019. The two interviews that were scheduled that week happened very quickly with one being on radio, while the other being on live television. The story I was covering was the new 2019 Canada's Food Guide. I remember that on the Dietitian Support Group on Facebook Sunday night, people were talking about the release on Tuesday January 22nd, 2019. I had already planned to be on television on January 21stfor a segment, but with breaking news like this I had the opportunity to pitch this story to the station and be one of the first dietitians in Kingston to explain the key changes made to the second most downloaded government document in Canada. The interviews went well, but it reminded me of the teamwork I received from Loblaws dietitians and the impact dietitians can have. Several dietitians were reporting on this news story, so I felt proud that I could contribute our professional voice as experts in food and nutrition.
Have you ever experienced a "fumble" during an interview, and if so, how did you fix it / what did you learn from it?
So far, I have not experienced a fumble in an interview. I will say that every interview is very different. You may pass along speaking points to the host in advance, but there is no guarantee that they will follow those speaking points. Therefore, it's important to plan for the unexpected. A media dietitian needs to understand what's happening in the world of nutrition, medicine and trends. These can help you answer most unexpected questions. Another key thing is when you are being stumped in a question is to breathe. Live interviews are short, but as I have experienced, and it's been reiterated in my undergraduate classes at Ryerson, it's okay to take a moment to breathe. That moment may seem like minutes, but it gives you the opportunity to string your thoughts together and create a logical map of how you're going to tackle the question. You can't go back in a live interview, so you must be logical and confident in the statements you make. Though, if there is a question that is out of your comfort zone, you should always be honest and inform the audience that it is something you are not familiar with but are more than willing to research about.
Can you share one tip or a nugget of expert advice for dietitians who would like to work / who are working in the media?
Being a dietitian who has only been out of internship for one year, the most important advice I must give is jump first and ask questions later. At Loblaws, I have both been given and pursed several media opportunities. I still feel fear and anxiety when it comes to doing any sort of media, but what helped me get through this is to say "yes" to the opportunity, then figure out how I will succeed. Creating key points over scripts, practicing by talking to myself and asking my friends and colleagues their opinions have allowed me to get to where I am today. In addition, figure out what your mission is. As a recipient of the Undergraduate Student Award from Dietitians of Canada, one of the key points I made for Vision 2020 was to make healthier choices easier. This pushes me to conquer my fear of media, since it provides me the platform to educate others and show them how to make healthier choices. Your mission will be the fire that pushes you through the tough and uncertain times in your career. Remind yourself of why you wanted to be a dietitian and just keep moving forward.
More about Charles
Charles is a first-generation Hong Kong Canadian whose family has been in the food industry through restaurants and bakeries. He studied nutritional sciences at the University of Toronto, completed his dietetic education at Ryerson University and completed the Aramark Dietetic Internship in 2018. Charles currently is a Loblaws dietitian in Kingston and hopes he can inspire Canadians to eat healthier for a better tomorrow.
To contact or Follow Charles
If you have any question about his journey or would like advice, please send him a message on:
Linkedin: www.linkedin.com/in/charles-ko
Instagram: @charles_ko_rd