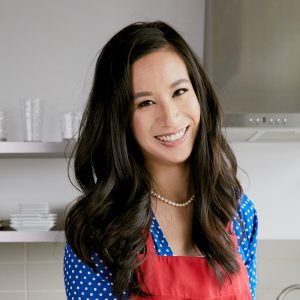 We're excited to introduce you to media savvy, entrepreneur dietitian Michelle Jaelin from Toronto! Michelle is the owner of NutritionArtist.com and she appears on Global TV, Breakfast Television Toronto and CHCH Morning Live in Hamilton. She has been a TEDx Speaker and is regularly sought after for her engaging corporate nutrition and wellness seminars. Michelle has been quoted in Best Health Magazine, Reader's Digest, The Toronto Star and 24 Hours Toronto. We're certain you'll enjoy learning more about Michelle and will enjoying reading about her media experiences and her tips for your own media success!
How did you get started in the media? 
During my university days, I knew I was an unconventional nutrition student with a prior degree in visual arts. I also knew I wanted to do something more creative, outside of the traditional scope of dietetics. One day, I saw superstar dietitian Sue Mah interviewed in the nutrition student newsletter discussing her career as a media dietitian. Shortly after, I saw her on Breakfast Television Toronto!
I knew I wanted to be a media dietitian. When Sue and Gina launched their Media Training Bootcamp business, I took every course and attended every workshop I could. The skills I learned from their combined wisdom helped me to land my first TV interview! This is how I got started in media, about 2-3 years ago. Their workshops and coaching are well worth it! Please note: Sue and Gina did not tell me to write this, it is my honest opinion!
What was your most memorable interview and why? 
There is definitely more than one for me, but recently I was discussing Halloween on CHCH Morning Live and I dressed up as The Paper Bag Princess! I also talked about my own childhood candy eating habits, which involved rationing my candy so I would have enough to last until Christmas (they found this really funny coming from an RD). I love how TV allows me to express myself creatively and share my fun side with others.
Have you ever experienced a "fumble" during an interview, and if so, how did you fix it / what did you learn from it?
On an interview on Breakfast Television Toronto, the hosts were supposed to guess true or false as to which cooking method for vegetables was healthier. The host Dina kept on getting all the answers right, while Roger guessed all of them wrong. Because of this, they kept laughing… which made me laugh too! But I wanted to make sure viewers still heard my key messages.
So when it was time to answer the question (they both got it wrong), I made sure to refer back to my cue cards and give them the actual answer. But I made sure to match the same energy they had during the laughing moment. What I learned from this is you can have fun and deliver the message you are trying to get across. Also, viewers love seeing people having a good time on TV, as it's a large contrast to the serious and sad news we see and hear every day.
Can you share one tip or a nugget of expert advice for dietitians who would like to work / who are working in the media?
 If you can, prepare your own visuals. I am a visual person (and when I prep all my own food styling), it helps guide my interview. I know what my next talking point will be based on how I arranged my visuals for TV. It also takes the edge off, because I can point to what I am talking about, and the camera will focus on that instead of me. This way, the camera isn't focused on me all the time, which I find awkward if I see myself too much on the screen.
Michelle Jaelin is a TV and digital media storyteller, food content developer and President of NutritionArtist.com; a creative food brand and blog focused on sharing practical nutrition and cooking tips, and bringing credible nutrition information to television, digital media, print, radio and podcast.
A little bit more about Michelle:
Creative yet grounded in science, Michelle completed both a Bachelor of Applied Science in Nutrition and Food and an Honours Bachelor of Fine Arts in Visual Arts, embracing the name, "The NutritionArtist." She earned her registered dietitian license after graduating from the Aramark Canada Dietetic Internship Program. Michelle's goals are to inspire others to cook their own food, and to explore food and culture!
To contact Michelle or follow her on social media: 
Website: NutritionArtist.com
Facebook: @nutritionartistRD
Instagram: @nutritionartist
Twitter: @nutritionartist