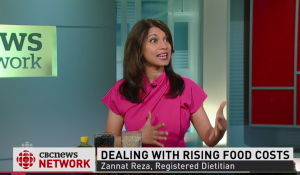 Featuring Toronto-based dietitian Zannat Reza – media dietitian superstar and owner of the health promotion social enterprise thrive360
In our Secrets of Success series, we are interviewing Canada's top media dietitians to share their media experience, insights and nuggets of wisdom to help YOU be a media rockstar! We're sure you will enjoy learning about more about Zannat's extensive media experience and some of her top tips for media success!
Zannat is a food and health storyteller who runs the health promotion social enterprise, thrive360. In addition, she helps organizations with knowledge translation, content creation and media outreach. Zannat is also a media dietitian who appears regularly on CTV, CBC, CH Morning Live and as part of The Dish expert panel for The Toronto Star.
How did you get started in the media?
I started working with the media in 2000 when I was a nutrition educator with Dairy Farmers of Ontario. My job involved being responsible for the nutrition media relations portfolio. Working with a PR agency, I had to come up with stories to inspire people to eat better. This was done through TV, radio and print media. The trick was (and still is!) to find an interesting way of packaging healthy eating information.
What was your most memorable interview and why?
Mine is more of a memorable media "win" rather than an interview. Several years ago I successfully pitched an article to the Toronto Star. It was my very first byline where my name was featured at the top of the article instead of being quoted in a reporter's story. I was tagging on a vacation after the DC conference in Victoria, and my story idea was to write about making healthy choices while on vacation with kids. I was thrilled when the idea was accepted! I had worked hard finding the right person to send the pitch, making several rounds of follow up, and finessing the article into something that was print-worthy.
Have you ever experienced a "fumble" during an interview, and if so, how did you fix it / what did you learn from it?
I was super nervous for my very first TV interview. It was with Breakfast Television (Toronto) so that added to the pressure. The PR person said it would be okay to take cue cards on set, so I taped a few on the side of the table. The host, the fun-loving Kevin Frankish, snapped up the cue cards on air and starting asking me about them. Talk about being mortified on live TV! I turned it into a laughable moment and continued with my key points. The key learning: do NOT take cue cards on set, and also, just laugh through any on-air fumbles. It makes you human.
Can you share one tip or a nugget of expert advice for dietitians who would like to work / who are working in the media?
When being interviewed, try to sound relaxed and unscripted. Pretend that you're sharing tips with a friend or neighbour. This usually helps me make the information sound less technical. Also, try and personalize a few tips so that you come across as a relatable expert.
Thank-you Zannat for sharing your expertise, valuable media insights and wisdom with Media Training Boot Camp! We know your diverse experience and tips for success will be certain to help dietitians who work in the media and those aspiring to do so!
For more information about Zannat or to contact her you can reach her at:
Website: thrive360.buzz
Twitter/Instagram: @thrive360ZR