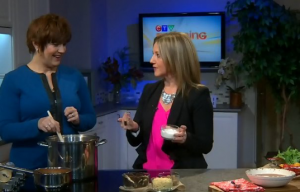 Featuring media savvy east coast dietitian Laurie Barker Jackman, RD
In our new Secrets of Success series, we will be interviewing Canada's top media dietitians to share their media experience, insights and nuggets of wisdom to help YOU be a media rockstar! We're sure you will enjoy learning about Laurie and some of her top tips for media success!
Laurie is an RD based out of Halifax, Canada. She is passionate about helping people understand the science of food and making it work for them. She has been informing and educating viewers for seventeen years on key nutrition topics on CTV Morning Live Atlantic Canada on her "Just Ask Laurie" segment that airs every second Wednesday.
How did you get started in the media?
I have always had a keen interest in media; I would jump on opportunities as they presented. Back in 2000, I met Nathalie Roy from Dairy Farmers of Canada.  She had a weekly regular spot on Breakfast Television (BT) in Halifax.  She was going on maternity leave and I interviewed for the position. I was ecstatic when I got it and that is where my relationship with BT (now CTV Morning Live Atlantic) began and my love and passion for media work grew. I continued to do segments for Dairy Farmers until 2005, and continue to deliver segments independently every second week.
What was your most memorable interview, and why?
Oh my!  This is a tough question!  So many stand out. One time I dressed up in a cow outfit when I was with Dairy Farmers, we were filming the segment with BT in Sobeys and I came out of the fridge! I love having fun with media while still getting my key messages across, and using humor where appropriate.
Have you ever experienced a 'fumble' during an interview, and if so, how did you fix it / and what did you learn from it for next time?
Oh yes. This is the thrill of live television! Once I had a host ask me the exact benefits of a vitamin.  It caught me off guard as that was not one of my key messages.  Unfortunately, I couldn't think of them at the time so I ended up saying, "well there are just so many, but what I wanted to talk to you today about was…", I was mortified!  I felt I should have known the answer and beat myself up over it.  My parents watch every segment, and I remember calling them after to hear the brutal-truth. They didn't even notice.  What did I learn?  That sometimes I don't need to take myself so seriously. It's okay to make mistakes, even on live TV, I am human, certainly not perfect, and it is okay to say I don't know the answer. Even though I am very critical of myself, some things that I notice, most viewers probably don't.
Can you share one tip/or a nugget of expert advice for dietitians who would like to work / or who are already working in the media?
Just one tip?  That's tough! In terms of doing media segments, I think it is most important to be authentic. You must believe in what you are talking about for it to come across in a meaningful way.  Also, when working with media, less is more. Trying to share 10 key messages in a 4-minute segment just doesn't work. Keep your messages short, simple, know your audience and practice, practice, practice!
Thank-you Laurie for sharing your expertise, valuable media insights and wisdom with Media Training Boot Camp! You have been sharing nutrition messages with the public through your media work for seventeen years! Your experience is certain to help all dietitians who work in the media and those aspiring to do so.
To learn more about Laurie and her terrific work:
Twitter: @RDLaurie
Instagram: lauriebarkerjackman